Beat Wall Street at its own game.
There will be more profits created in the next 10 years than the last 50 combined. My job is to help you find 'em, then get your money there first by sharing the strategies and tactics that have helped successful investors and traders go from zero to millions, perhaps even billions. All in plain English beginners will understand and experts will appreciate.
Already a member? Click here.
The markets have never been more challenging.
Deciding where to focus and why is overwhelming.
You're not getting consistent results and have no idea how to fix that.
The Fed, Washington and Wall Street are out of control.
Computers trade so fast humans can't keep up
It's harder than ever to keep your money safe
And your options aren't great
You know the game is rigged. But you have no idea which stocks to buy or what tactics can put the odds in your court.
DIY is challenging. Most investment research leaves you with more questions than answers. Not to mention, a lot of it is crap.
Courses are hit and miss. Many focus on specific tactics and are uber-expensive. They can be long and boring, and fail to show you how to achieve consistent results over time.
Hiring a professional is expensive, if you can find a good one. Most cost thousands of dollars a year yet provide very little proactive guidance and are often late to big trends. Many prioritize big clients over smaller investors who could really use the help.
It's easier than ever to make bad decisions. The Internet is filled with hype masquerading as research. Once in a while you may get lucky but odds are most of the time you won't.
What you need instead is the confidence that you're on the right track. That you own the right companies. And a breakdown of exactly how to pursue both. We call this being "One Bar Ahead®"
One Bar Ahead® combines two very simple concepts ... 1) buying the world's best companies making "must have products and services" when nobody wants 'em & selling when others can't resist buying then 2) keeping risk as low as possible at all times.
Being "One Bar Ahead®" means you get:
Meaningful results: Aligning your money with where it's going means you and your money will capture structural shifts changing the world we live in. Conventional diversification and sector based analysis is based on where the world has been. And, it's badly broken.
Professional-grade tactics explained in plain English: Most people want to buy great stocks but simply lack the knowledge, education and tools to find 'em.
A rigorously researched and proven framework: Buying a stock without knowing how it "fits" is like driving without knowing where you are going. But, sadly, that's what most people do with entirely predictable results.
Peace of mind: Having a plan and knowing how to execute it gives you confidence and helps you sleep through at night.
42 years of experience: in global markets mean I have first hand experience and perspective others don't. I'll share where the money's going and why, often months ahead of the headlines. Often including information Wall Street can't or won't share.
Education: I believe educated investors are more successful so I do my best to make sure you know when, how and why to make the most of our time together.
Growth with and without One Bar Ahead®
With One Bar Ahead® you can build real sustainable wealth over time without the false starts and mistakes that trip up most investors. You'll learn to approach the markets with newly found confidence and the skills needed to make the most of it through good times and bad. No PhD or previous investing experience required. All in plain English.
One Bar Ahead® helps you get on the right track.
Many investors fail for one simple reason ... they lack the long-term vision and perspective needed to get through short-term chaos. OBA is a rules based approach that takes emotion out of the equation.
What sets One Bar Ahead® apart?
Goodbye to guesswork
Most investing services are little more than glorified "tip sheets" focused on the hot money. If that's what you want, fine.
One Bar Ahead® is about investing in optimism and its outcome is controlling your financial destiny. We have real discussions about which stocks to buy, why and how ... all of which is backed by decades of data-driven research and experience.
One Bar Ahead® involves 1)recognising that much of what we've been taught to believe about the financial markets isn't true any longer or is at best misguided and 2) investing in a new financial paradigm based on where the world is going rather than where it's been.
---
World-class research
I've been closely involved in global markets for 40+ years as a researcher, analyst, consultant, private investor and trader.
During that time, I've learned a thing or two about making money in the markets. How to find great stocks, manage risk and many of the strategies and tactics that have helped successful investors and traders go from zero to millions, perhaps even billions of dollars.
Knowing what to buy is only half the battle, though. Things change when you understand how and why, too. It's empowering and, if I have anything to say about it, fun.
Some of my readers have been with me for more than 20 years, and that doesn't exactly happen by accident.
---
Written in plain English
Many analysts play buzzword bingo because they think it makes them sound smart.
Not me.
Every investing idea, every explanation, every bit of research is presented in plain English that beginners understand and professionals appreciate.
No hype, no gimmicks, no gotchas!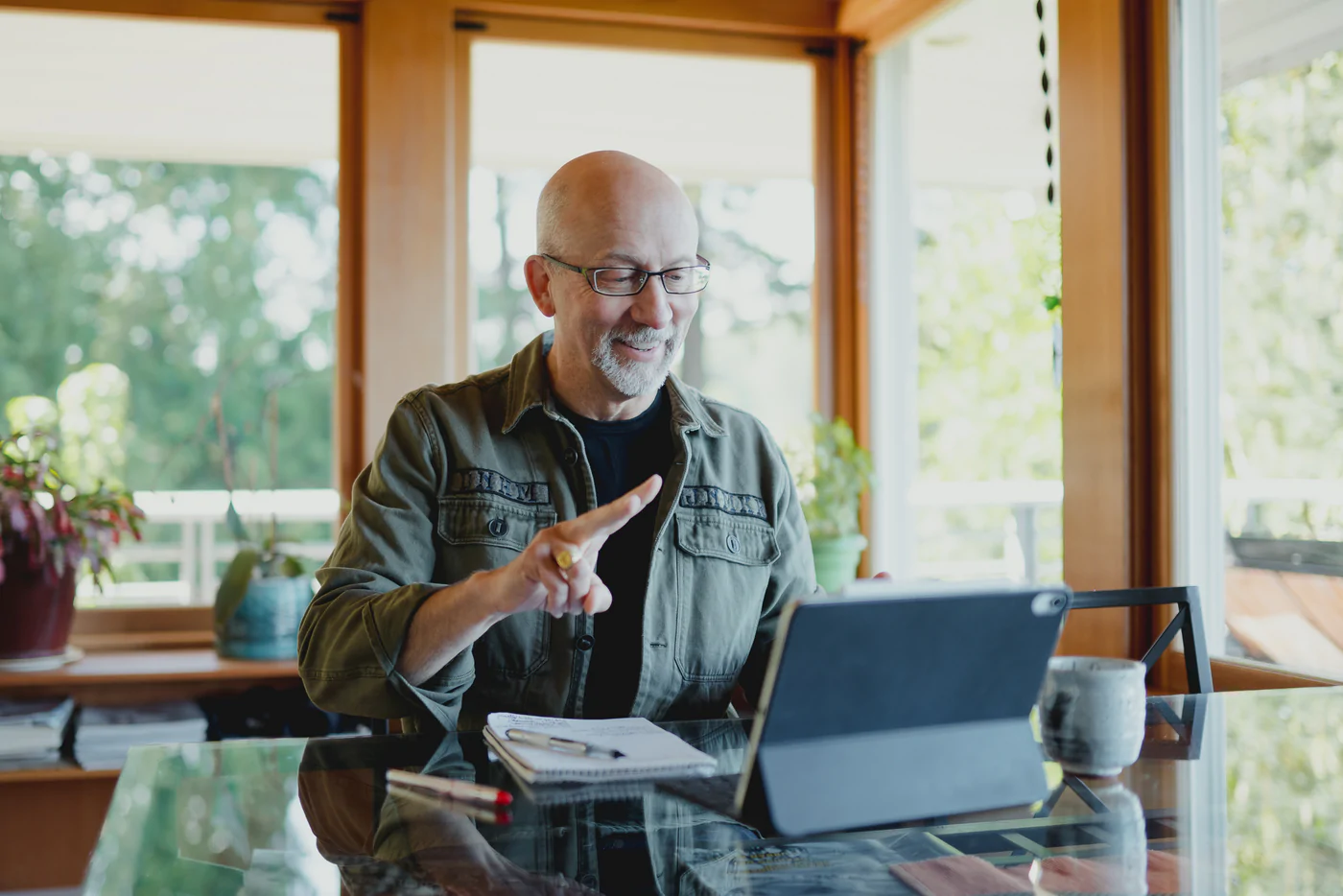 Is it worth the money?
We like to think so, but don't take our word for it. Here are what our members say:
Maximise profit potential, minimize risk
Specific buy, sell recommendations, commentary, behind the scenes analysis, access to proprietary predictive indicators, education, weekly updates, Ask Me Anythings and more!
Who is One Bar Ahead for?
Serious individuals AND professionals in search of a proven big-picture, thematically driven, safety-first approach to growing their money over time. Since launch, we've proven that we're a great fit for nearly every age, life stage, and account size.
One Bar Ahead® is optimized for…
DIYers who are tired of Wall Street's table scraps, frustrated by bad advice and false promises
People who want to regain the confidence needed to build a lifetime of wealth and financial security
Savvy folks who want to know they are on track and own the right companies needed to keep it that way.
Time proven, rigorously researched strategies that can help you achieve financial security through good and bad times.
Constant risk management, education and knowledge
Who's NOT a fit?
People in search of a blue-plate special
Cherry-pickers and ticker hunters
The One Bar Ahead® Guarantee
I want you to be happy.
We think you are going to love One Bar Ahead® so much that we will give you 90 days to try it out.
But, if you absolutely, positively decide that OBA is not for you, please reach out to our customer service team any time during those 90 days and we'll make sure your money is refunded.
We're a family-owned business, NOT some big anonymous publishing house that'll take your money and run. Not for nothing, but a number of Keith's original readers from 20+ years ago are still with us today. And that doesn't exactly happen by accident.
Ready to get One Bar Ahead?
Become a better, more confident investor immediately!
$4.09/day
(That's cheaper than a gallon of gas, less than a cup of coffee at Starbucks, and less than a slice of Pizza.)
Looking for FAQ's? Keep scrolling (after this quick note from Clint)
From Clint (OBA Member)
Hi Keith,

I joined the One Bar Ahead family in Feb 2022. By simply "following along", my portfolio is currently up over 36% YTD!!!

I have invested (and wasted) a lot of money over the years on subscriptions to a bunch of different newsletters. Not a single one has been worth it.... Until I subscribed to One Bar Ahead.

Every other stinkin' newsletter and/or stock advice guru ALWAYS spent more time and energy trying to upsell me more of whatever flavor of Koolaid they were selling. Very little effort was given to actually providing good investment information.

I was so tired of all of the garbage information floating around out there, that I am sorry to admit, I almost didn't subscribe to One Bar Ahead out of fear of wasting more money.

Boy was I wrong to think that! I am so glad that I decided to subscribe!!!

Your insight and information is given in a logical, straightforward and honest way so that everyone from the greenest beginner to the experienced pro can learn, understand and apply the information provided.

The best part is that every communication that I get from you is actually helpful in my investing journey. I don't just get endlessly spammed with sales letters to "upgrade your subscription to the ultimate, super secret, insiders only, pot of gold, platinum package".

Anyway, all joking aside, it is very refreshing and greatly appreciated that you provide such an incredible, valuable and informative service. I can guarantee you that I am not the only one that appreciates the gift of your knowledge. So, thank you. You're great!
- 2022/08/16
If we're doing our jobs correctly, it should be very simple. We purposefully write everything in plain English. No PhDs required and no buzzword bingo. You can ask questions and get full sentence answers in the weekly AMAs.
No! It doesn't matter if you have a little money or a lot, the principles are the same. Case in point, the OBA Family includes readers who are just starting out with a few thousand dollars to their name to professionals with hundreds of millions at their fingertips.
No! In fact, one of our core objectives is to help you grow as an investor by introducing information, strategies, and tactics in understandable chunks that help you grow your knowledge over time. There's no pressure and you can "level up" at your own pace. Just like thousands of investors who began with Keith and have already made the journey from rookie to seasoned investors in their own right.
Nope. You can follow along using plain-old stocks and funds if you want. That said, options "done right" are one of the last remaining edges an individual investor can have. That's why we include ongoing education at no additional charge.
Yes - from the second you join! Since launching in Jan 2021, we've got a fantastic library of analysis, deep dives, and strategies you can implement immediately. All of which you can download right away.
Short answer - no. You have immediate access to 100% of our content library the moment you sign up. That would be totally unfair to existing subscribers - many of whom have been with us for decades.
No. That said, every subscriber has instant access to the OBA model portfolio the moment they sign up.
No. One Bar Ahead® is designed to help investors generate long-term wealth over time. It is not a trading service in pursuit of "hot money" at a moment in time.
Generally speaking, we don't offer sample issues because the portfolio information and research contained in each issue is immediately actionable and it'd be unfair to our paid members to give it out for free. We do, however, have one sample each of the Monday Update and Friday AMA's with portfolio information omitted. Both are available upon request by getting in touch with us here.
Please note all investing carries the risk of loss and you should only speculate with capital you are prepared to lose. The fact that we have made information available to you is neither a recommendation that you enter into a particular transaction nor a representation that any investment described herein is suitable or appropriate for you. Many of the investments described by Keith Fitz-Gerald Research involve significant risks, and you should not enter into any transactions unless you fully understand all such risks and have independently determined that such transactions are appropriate for you. Any discussion of the risks contained herein with respect to any product should not be considered to be a disclosure of all risks or complete discussion of the risks which are mentioned. You are advised to discuss with your financial advisers your investment options and whether any investment is suitable for your specific needs prior to making any investments. Purchasing a Keith Fitz-Gerald Research publication does not make us responsible for your investment results, and you will bear the risks of any investment you decide to make. Sometimes our investment recommendations may be wrong or the timing may be off. Furthermore, the investment returns described and detailed above should not be read as a promise or guarantee of your personal returns using Keith Fitz-Gerald Research.
By submitting this order or request, you agree to our Terms & Conditions of Use.